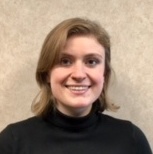 MMA has recently hired our first organizer on staff, Mackenzie Burke. Mackenzie graduated from the University of St. Thomas in May 2017 with a degree in American Cultural Studies and English. She is joining MMA with various experiences in organizing, including community, student, and labor organizing. These roles have helped shape her framework for understanding organizing- as building relationships and leadership that is founded in the interests and goals of the community she is working with.
Mackenzie officially joined the MMA team on January 3rd. Her role will focus on outreach to new and existing members throughout the State. She is excited to begin building relationships with members and work alongside locals, board members, and leaders throughout the MMA community to collectively build a stronger MMA community for the future.
In her spare time, Mackenzie loves to run, write, garden, and camp. She is enraptured by Minnesota's North Shore and finds herself hiking the trails alongside Lake Superior when she can. She grew up in Waseca, MN and currently lives in Minneapolis.